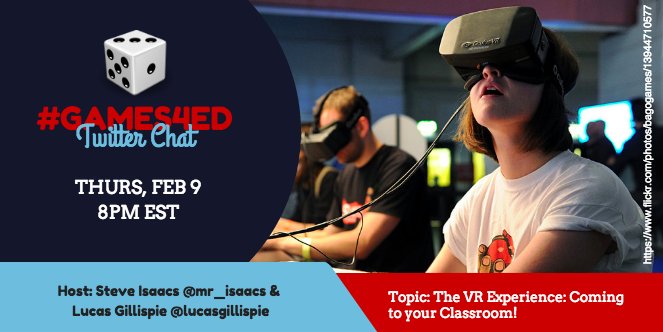 Last night I participated in an educhat titled The #VR Experience – Coming to Your Classroom! on #games4ed hosted by @lucasgillispie @Garlicsuter.
Six questions were posed by the hosts. I've summarized the responses below.
Q1: What experiences have you had with VR? Any that really stand out as being especially immersive?
Q2: What VR experiences would you like to see available for YOUR students?
Social rather than isolated environments
Empathy scenarios like The Walking Dead and Life is Strange
Sandboxes like #Minecraft that allow students to create rather than just consume
Environments that support playful learning much like video games
Q3: How do we take VR in education to scale? How can we make it accessible to more kids?
Utilize existing hardware:

iPad simulation apps
360 videos are accessible on exisiting devices supported by a YouTube filter

Google Cardboard is an affordable entry point
Q4: What experiences would lend especially well to #VR vs. any other medium?
Travel to places you cannot really go: space, oceans, other countries
Simulators: anatomy, dissection, cell structures, internal organs
Augmented empathy
Q5: #VR seems like an obvious fit for immersive content consumption. Where do you see opportunities for content creation?
Current platforms allow for user created content in virtual worlds:
Theta to take 360 pics/video to import in Google Cardboard
Low cost #VR cameras
Develop a Community of Practice for students
Q6: What's your next step for bringing #VR experiences to your students?
Write grant proposals and seeking VR partnerships
Implement #VR headsets & Android devices
Teacher training and support
Advocate at school for scaling